Description
Le SABO Deadlift BLUE EDITION sono l'ultimissimo modello 2022 di scarpe SABO espressamente progettate per lo stacco da terra.
Nel mondo del Powerlifting, queste sono le scarpe numero uno per l'esercizio di stacco da terra.
Ottime anche nello squat, per chi preferisce una suola piatta e per tutte le espressioni di forza in cui è richiesta elevata aderenza al suolo.
Caratteristiche principali | SABO Deadlift BLUE EDITION
Presentano una suola ultra-sottile (2/5 mm) necessaria per ridurre al minimo la distanza dell'atleta dal bilanciere nei movimenti di tirata.
Il fondo è ultra-rigido, permettendo così di imprimere la massima energia.
La suola è costituita da materiali ultra-aderenti e presenta un supporto laterale in grado di eliminare qualsiasi slittamento laterale dei piedi durante lo stacco sumo, a differenza di quanto accade indossando i "Deadlift Slippers" o le Chuck Taylor.
Dotate di due cinghie laterali che consentono di regolare in maniera individuale la pianta e il collo della scarpa.
Utilizzate da centinaia di atleti IPF e delle migliori federazioni sportive al mondo.
Nella gamma di calzature SABO, sono le uniche scarpe specificatamente progettate per lo stacco da terra.
Disponibili nella nuova colorazione Blu 2022
How to choose the right size
Questa nuova versione calza leggermente più stretta del precedente modello: tienilo in considerazione se vieni da quello.
To determine the correct number to choose, you can measure the length of your foot. It is a good idea - when measuring - to wear the same socks that you will use when lifting.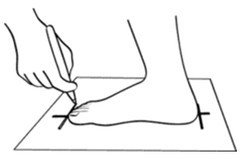 The inside length of the shoe is measured from the back of the heel to the tip of the toes. It is recommended to take measurements while standing, as follows:
You need a sheet of paper, a pencil and a ruler
Draw a straight line on the paper. The line must be longer than your foot.
Put the sheet on a flat surface.
Put your foot on the sheet with your heel and the longest of your toes on the line. We suggest that you measure while standing.
Make a mark on the top of the toe and another on the heel.
Take the ruler and measure the distance between the two marks.

Measure both feet and consider the size of the longer one.
Add 0.5 cm to the measurement.
Look for the corresponding size in the table below.
If you find yourself halfway between two numbers, we suggest choosing the smaller one.
Generalmente il numero che indossi solitamente per le scarpe è quello corretto. Se dalla tabella risulta un numero più grande ti consigliamo di scegliere comunque il tuo solito numero.
For any doubts you can contact us and we will try to recommend the correct size.
Foot length
(in cm)

Size

23,5

37

24,5

38

25,0

39

25,5

40

26,5

41

27,0

42

27,5

43

28,5

44

29,0

45

29,5

46
SaveSave